Packing Your Goods for a Last-Minute Move
Moving house can become very tough when you have to do it on a tight schedule. If you want to be successful you need to make sure that the basic tasks that are involved in such a project are covered in the best possible way. Of those, packing takes up the most planning, preparations and effort. It is also vital for guaranteeing that your items – furniture, appliances, clothes and other personal belongings – arrive safely at your new address. Here are some last-minute packing tips that will definitely make your life easier.
The important decisions
First, decide on whether you would like to tackle the task at hand on your own or you would rather delegate it to your movers. Many relocation contractors offer comprehensive packing services in London that will be particularly useful in such a time of need. If you are one of those people who prefer to handle most things on their own, you might want to read on.
Packing tips to save your life
Carefully planning what to take and what to leave behind is the key to successful packing for a domestic removal. Old clothes, outdated appliances and other items, no matter how attached you are to them will only slow you down, so donating or even simply throwing them away will be a good idea.
If you want to finish up the packing as quickly as possible, you have to:
Get the right supplies – boxes, wrapping materials, labels etc. Play it safe and purchase a little more of everything that you expect that you will need. Thus, you will avoid the unpleasant surprise of running out of some vital item in the last second.
Work a room at a time – move on from the inside of the house toward the outside, and do not continue with the next room until you have finished packing everything in the one that you are currently at. Thus, you will be able to better keep track of the work you have already done.
Know where to pay special attention – the fragile china set in the dining room, your brand new flat screen TV and any other fragile item needs to be handled with extra care. Even if you waste more time packing them than you would prefer, it is a much better than the alternative – finding out that they have been broken during transportation.
Purchasing a full Goods in Transit Insurance is the sensible thing to do, especially if you did not have the time to pack without hassle. Even if some of your items suffer damage in the process of loading and moving, you will be covered at least financially.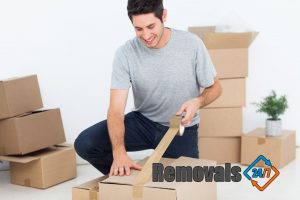 Last, but not least, do not forget to carefully label every box that you will be moving, so that the people from the man and van firm know the content of those that they will need to handle with more care than usual.
Even if circumstances demand it that you plan and organise your move at the very last minute, you should still find time to pack your items. Now that you have these tricks up your sleeve, this won't be such a challenging task for you.