Making a Splash in the Home Market
Assuming you are out of London, it means that at one point you have had to move in. All sorts of ways today will allow you to relocate to the great city of the United Kingdom. Air travel is certainly one of the most worth it and efficient ways of entering the city. However, there is a minor problem with. When the initial jet lag and disorientation are over, it is time to explore the possibilities London has a lot to offer to the fresh arrival. However, it is unlikely to expect that you would be able to find a home in the matter of days, and it is even likelier that you will have to change living quarters every so often.  Nevertheless, there is a plain and easy solution for those annoyances. London's home removals and removal companies are there to assist everyone with their problems when it comes to changing houses.
Moving Uptown or Downtown in London
With its busy arteries, London is clogging under the pressure of heavy traffic. Cars are usually progressing at a crawl, which throws a spanner in the plans of everyone who has bene hoping to conclude the tedious task of relocation quickly.
Recently, there have been a few complaints about London as the most desirable location to go and live. However, thanks to its connectivity with the rest of the world, the city remains a good location where people are moving in to live.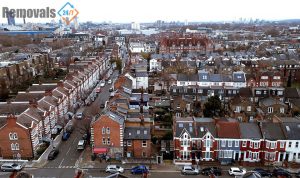 Of course, when new Londoners move into an old home, there would be a number of things to do beforehand:
Old furniture may be in the way, and therefore some cleaning up would be necessary. However, this cleaning may be better left to the specialists of a removal company;
New homeowners may need to make sure that the place is free of lasting chemical agents if the build and apartment or house are old;
It is always worth to check the premises thoroughly for security breaches as well
Normally, there are many things to consider before you make an actual purchase. That includes location of the property along with other minutiae that are equally important if you are serious about buying a property in London. Don't forget the costs for removals in London.
When It Comes to the Actual Property
It is important to consider the implications of moving into a new property. You may need to buy insurance so that you may avoid the unpleasantness of having to cover the costs if a natural disaster transpires or you are the victim of burglary. Many opportunities exist for the prescient homeowners.
Most certainly, London will offer brilliant opportunities to live and socialise. If you have had enough of the big city, however, you may move out freely. Just book one of the many reliable removal companies, and your home will be emptied in the matter of hours while the furniture and your other belongings will be transported to safety. Whether you move out or in, London is a worthy sight.