Evergreen Gifts for Someone That Moved Home
While you are not required to send gifts to friends or family members that have just moved home, there are some occasions in which buying a housewarming present is actually a really good idea. For example, that is often the case when the person who has just relocated has:
Moved into his or her first house;
Started sharing a home with their partner;
Invited you to a housewarming party;
If you have no idea what sort of a gift is expected out of you, you will be relieved to hear that the choices you have here are pretty standard. Of course, you can always personalise the present and make it more personal.
Be practical
Your friends or relatives will surely appreciate a present that is practical rather than expensive. That is why you can get them a toolbox or a home emergency kit. Even if they have used an all-around domestic removal service in London and they have had every stage of their moving processes organised by qualified movers, chances are that they probably have not thought about investing into such practical items which are must-haves for any homeowner. Another great gift idea for people who have recently moved into a new home is to buy something for the kitchen. A new frying pan or a few pots will be, without a doubt, much appreciated.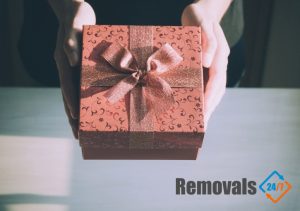 Pictured: A gift box
Make the place more liveable
It takes time before a new house can start to feel and look like a home. An easy trick to make any property cosier is by putting potted plants here and there or hanging a painting on some of the walls in it. Therefore, a potted plant or a pretty framed picture or a painting can have a miraculous effect in any sterile-looking house or apartment. If your friend doesn't have a green thumb or if you are not sure about his or her taste in art, you can buy them a big fragranced candle or a large comfy pillow for their sofa.
More flavours to life
Take this in the most literal way possible. Get your newly-moved buddy an assortment of tea, seasonings or herbs. A fun fact about professional moving companies is that, by law, they are not allowed to transport food and that also includes things like seasonings. So, even if your friend was well-stocked with herbs and etc., they may have been forced to leave them behind or to throw them away. That is namely why a nice spice rack can make a lovely housewarming gift.
Something thoughtful
If you want to make the gift feel more special, you can personalise it by printing or engraving the name of your buddy on it along with his or hers moving date. An excellent choice here is an engraved chopping board, a personalised doormat, key holder or even a mailbox.
If you are looking for a last-minute housewarming present idea, buy a bottle of red or rose wine. It will certainly make your friend feel cosier after the move, it will make the new home more liveable and it will definitely add a more exciting flavour to their life.